Vulli Chan Pie Gnon Teethers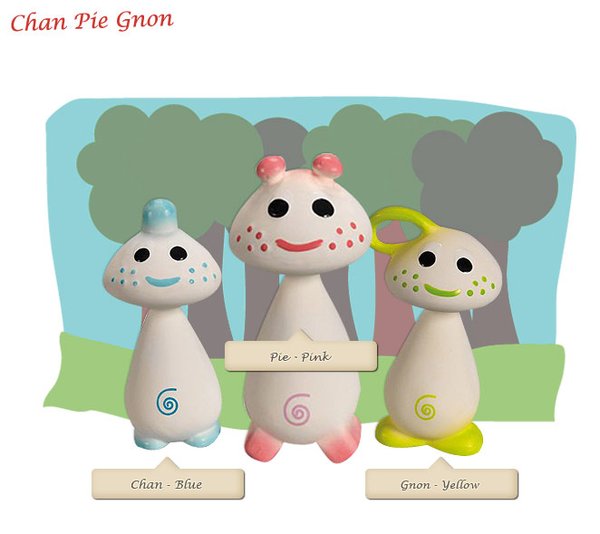 From the makers of Sophie the Giraffe comes the super cute Chan, Pie, and Gnon!
Chan Pie Gnon comes from the French word champignon, which means mushroom. Chan (blue), Pie (pink), and Gnon (yellow) are adorable mushroom-shaped soft chew toys.
Taste: Composed of 100% natural rubber and alimentary paint, it is harmless for baby. Ideal for cutting teeth, with many parts to chew.
Hearing: It has a whistle, which will amuse baby and help him to understand the relation between cause and effect.
Touch: A concept with rounded shapes especially designed to enable baby to easily take a firm hold.
Smell: the special odour of natural rubber from the Hevea tree gives it a particular perfume and makes it easy for baby to identify among his toys.
The Chan Pie Gnon are proudly handmade in the French Alps with the finest natural rubber (phthalate-free) and food quality paints (like their best friend Sophie the Giraffe). * Dimensions: Height: 5 inches * Recommended age: newborn - 2 years * Made in France