Toiletry / Make-up / Wet Bags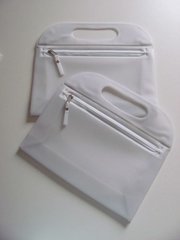 Need a handy little re-useable bag to keep your Breastpads, makeup or toiletries in? Or to keep those loose bits and pieces (or wet dirty items) in inside your nappy bag?
Then try one of our little zippered Toiletry Bags! See-through white, with a handle, and made from plastic for easy care... just wipe clean when its used to store dirty items.
Measuring 24cm x 21 cm x 7.5cm
Sold singly