Sophie the Giraffe Soft Pyramid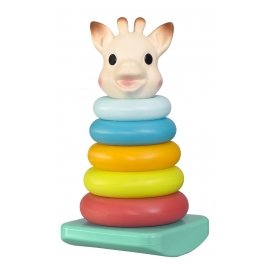 Sophie the Giraffe - Soft Stacking Pyramid

5 rings of different sizes, easy to grab, handle and stack, enabling baby to develop his dexterity and learn the notions of "big" and "small". Fully made of soft materials, so much safer than wood or hard plastics for babies and toddlers.

Baby will love the fun of taking Sophie the giraffe's head off and putting it back on again at the top of the pyramid.

Baby can nibble the rings that are soft and flexible to soothe painful gums when his teeth are coming through, in total safety.

The amusing wobbly base is a great way for him to learn the notion of balance.
Now with a BLUE base!
6m+