Sophie the Giraffe Prestige Gift Pack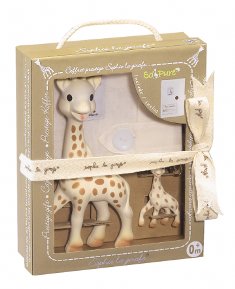 The Sophie the Giraffe 'So Pure' Collection was created to contribute to the protection of the environment and to offer baby even safer products.
All the products in this collection are made from 100% organic cotton.
The products in the 'So Pure' Collection are environmentally friendly and are presented in pretty gift boxes made from recyclable materials.
The Prestige Gift Pack is the ideal gift for mother and baby and includes:
Sophie the Giraffe
A keyring of a gorgeous miniature Sophie the Giraffe

A 100% organic cotton "My Memories" bag for storing baby's birth treasures