Sophie the Giraffe Play House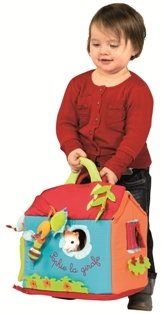 A house for Sophie the Giraffe, packed with fun things for babies and toddlers to do! This toy will be one of the best investments you will ever make - your child will play with it from babyhood to school age, and it will provide a special house just for your child's treasured Sophie.
You also receive a Sophie the Giraffe inside the House!!!

It can be used in 3 play positions:
A house with 2 handles that can easily be carried around everywhere so baby can play with Sophie the Giraffe wherever she goes! The house has a practical pocket for storing Sophie. Zips and velcro straps close up the house and provide practice for your child for these fastenings.
A world in which baby can make pretend with Sophie the Giraffe and have lots of fun while at the same time learning about everyday life! When Sophie the Giraffe's house is opened up, a whole new world is revealed, in which baby can make up stories and use his Sophie the Giraffe to act them out. The functions have all been specially designed to teach baby in a fun way about daily life and help him to accept certain rituals.
An activity centre with more than 24 activities to stimulate baby's senses! When fully opened out and laid flat, Sophie's house becomes a huge play mat for little ones to explore, packed with different materials and textures to touch and feel.
Made entirely of fabric for added safety. Hand washable for greater hygiene.
For ages 6m+