Sophie the Giraffe Original Teether Toy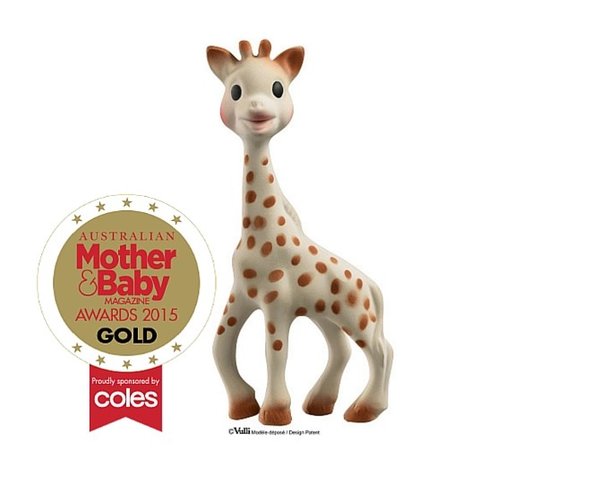 Sophie the Giraffe is the must-have toy & teether for babies and toddlers the world over. She is the toy to be seen with for movie stars and celebrities. She is a 100% natural rubber toy with all natural food paint, so you can rest assured your baby is safe with Sophie the Giraffe. Other features include soft and nobbly parts to soothe babies gums, easy to grip even for small hands, long legs for entire gum chewing or hard to reach molars, squeaks to stimulate hearing.
Sophie the Giraffe is the first toy that stimulates all 5 senses from the age of 3 months.
Sight - the dark and contrasting attention catching spots all over Sophie the Giraffe's body provide visual stimulation.
Hearing - Babies love Sophie's squeak.
Taste - Sophie the Giraffe is made of 100% natural rubber and food paint, and is completely safe & delicious to chew.
Smell - The singular scent of natural rubber makes Sophie very special and easy for the child to identify amid all other toys.
Feel (Easy to grip) - Sophie the Giraffes shape and 18cm size are perfect for baby's small hands. She is very light, and her long legs and neck are easy for baby to grip.
She is the undisputed star for the very young... the archetypal embodiment of the early learning toy. Sophie the Giraffe is a must-have who enjoys widespread popularity and is genuinely loved by every parent and child. She is timeless and cross-generational.
Join the likes of Nicole Richie & Harlow, Naomi Watts & Alexander, Sophia Cupploa & Romy, Isla Fisher & Olice, and Ashlee Simpson & Bronx by buying this gorgeous teething toy for your baby or as a very special gift.
For ages 0+