Boobie Beads by Pinky McKay - White Ice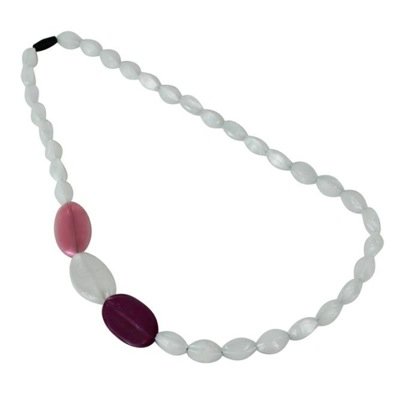 MummaBubba Jewellery and Pinky McKay (Internationally certified lactation consultant IBCLC)have joined forces to design Boobie Beads for fashion conscious, modern breastfeeding mums. Mums that use Boobie Beads report that their restless, distracted babies became so absorbed in exploring Boobie Beads during feeds, that they focused better on breastfeeding and consequesntly mum and baby enjoy calm, happy breastfeeds.

Did you know that women in traditional cultures have long worn beads that maintain their babies' interest as they breastfeed?

The concept behind Boobie beads are the 3 brightly coloured beads that act as a focal point to keep baby entertained and encouraging them to sit quietly and feed longer instead of getting easily distracted by their surroundings. These beads are made from FDA approved silicone and can also double as a chewable necklace and fashion accessory for all Mums.

* FDA approved silicone AS NZ IOS 8124.1 2010 standard

* BPA, PVC, cadmium and lead FREE

* Necklaces come with a breakaway clasp so snagging cannot occur. Length 92cm long

* The jewellery is easily cleaned in warm soapy water.

The 'White Ice' style consists of white ice beads on the main part of the necklace with feature beads of purple, white ice, and pink.

PLEASE REMEMBER OUR NECKLACES ARE NOT TOYS - THEY ARE FOR ADULTS TO WEAR AND FOR BUBS TO CHEW AND SUCK ON UNDER SUPERVISION. DO NOT LEAVE THEM WITH CHILDREN UNDER 3 UNSUPERVISED.