MiniBoo - Cuski Mini Blue-ee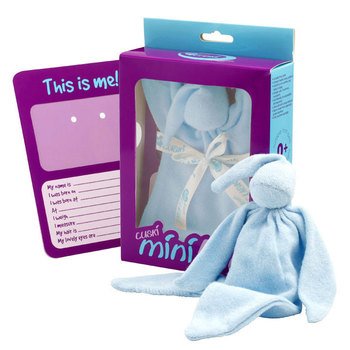 Miniboo's are primarily being used with babies who are born too soon (Premmie babies).
They are part of the developmental care programme on the NICU or SCBU in UK hospitals to help keep Mum's scent with baby at all times. Mummy keeps Miniboo on her person to pick up all those lovely mummy smells and then places it next to baby in the incubator, baby can smell mummy and keep swapping so mummy can smell baby too, which in turn, if breast feeding, will help the milk flow. Your special care nurse will answer any questions and advise you on correct use of this product.

Made from 100% bamboo rayon fibre, anti-bacterial properties.
Washable at 30 degrees
Dimensions: length 19.5 cm
Ideal gift for premature baby, includes birth card photo frame in gift box.
Please note, in most units plush toys are NOT allowed in incubators, Miniboos and Cuskiboos ARE allowed.

* Cuski recommmend to use Miniboo from prem up to 3 months old, after this time it is advisable to graduate onto normal sized Cuskiboo's.