Heirloom Bunny Rug & Burp Cloth - Pink & Green Argyle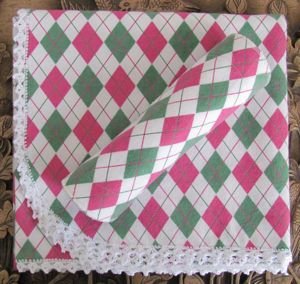 One of our beautiful handmade oversized flannelette baby wraps that also serves as a gorgeous receiving blanket for a newborn baby, or a light blanket for the cot or pram ~ This one a very funky pink & green Argyleprint flannelette with our signature white lacy hand crocheted edge. Plus one of our best-selling Burp Cloths.

This blanket measures approx 105cm x 105cm (much larger than other brands of baby wraps/receiving blankets) - big enough to last right through to toddler/pre-schooler age.

All crochet completely hand stitched, taking many hours to complete. This wrap will be treasured by both Mother and Child for many many years, and is an item that will surely be tucked away to be passed to the next generation.