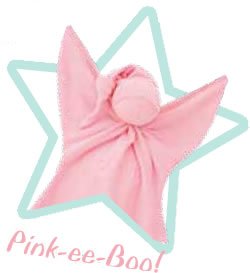 Pinkee-Boo Cuski is made from ultra soft pink bamboo terry.
Cuskiboo® has all the qualities a child looks for in a comforter - softness, lovability, and of a course a label to twiddle, but unlike a traditional blanket it can be easily replaced if lost or damaged. Bamboo Cuskiboo® is made lovingly from a special bamboo yarn which has many wonderful properties. It is ultra absorbent, anti-bacterial, and importantly eco-friendly. Bamboo is highly sustainable and grows organically without the need for harmful chemical pesticides or fertilizers. It has a very short growth cycle, is easily cultivated and is totally bio-degradable. Additionally, when growing bamboo, it absorbs all those nasty green house gases and produces about 35% more oxygen than normal trees. So... by developing Cuskiboo® we are helping our planet.....
Precious directions for use: Keep Cuskiboo® close to you, either inside your clothing or next to you in bed for a few days; it will absorb all those comforting mummy/daddy scents, then introduce to baby to create a naturally safe comforting environment. A perfect newborn baby gift, baby shower gift, or even a great gift for toddlers!
Dimensions - approx. L48cm x W17cm Fabric - Bamboo rayon with virgin cotton filling

Your Cheeky Monkey advises parents to follow the SIDS Safe Sleep Guidelines, please see their website for more information.