Cuskiboo - Cream Bamboo Cuski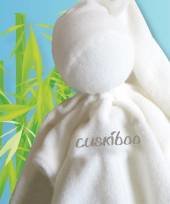 Organic natural cream bamboo Cuskiboo.
Young babies and children love to feel safe, secure and close to mummy. Cuski® is made from a special hygroscopic material that has a unique ability to capture mummy's own special smells. We recommend that you keep Cuski® with you (mummy/daddy) for a couple of days before passing on to your baby. Tuck it into your top next to your skin at feed time/sleep time and let it take in your unique aroma, then when the time comes to settle your little one down, pop Cuski in too. The closeness of you will stay with baby as he drifts off to sleep, leaving him warm and comforted.

Cuski is now being used around the world by premature babies, sick newborns, babies in neonatal intensive care units (nicu), special care babies, toddlers, children 0+ 7 years, both boys and girls adore Cuski Comforters, babies and children in daycare, babies with nannies or babysitters,working parents, babies of mothers and fathers who have returned to work, unsettled babies and more.
Dimensions - approx. L48cm x W17cm Fabric - Bamboo rayon with virgin cotton filling

Your Cheeky Monkey advises parents to follow the SIDS Safe Sleep Guidelines, please see their website for more information.