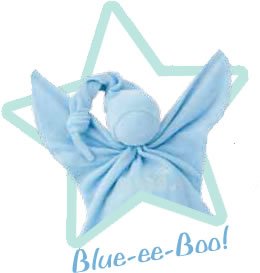 Bluee-Boo Cuski is made from ultra soft blue bamboo terry.
Cuskiboo® has all the qualities a child looks for in a comforter - softness, lovability, and of a course a label to twiddle, but unlike a traditional blanket it can be easily replaced if lost or damaged. Bamboo Cuskiboo® is made lovingly from a special bamboo yarn which has many wonderful properties. It is ultra absorbent, anti-bacterial, and importantly eco-friendly. Bamboo is highly sustainable and grows organically without the need for harmful chemical pesticides or fertilizers. It has a very short growth cycle, is easily cultivated and is totally bio-degradable. Additionally, when growing bamboo, it absorbs all those nasty green house gases and produces about 35% more oxygen than normal trees. So... by developing Cuskiboo® we are helping our planet.....
Dimensions - approx. L48cm x W17cm Fabric - Bamboo rayon with virgin cotton filling
Cuski, also known as snuggle blanket, security blanket, blankie, cuddle blanket, cuddle cloth, comfort blanket, lovie and above all the best gift for babies!
Your Cheeky Monkey advises parents to follow the SIDS Safe Sleep Guidelines, please see their website for more information.