Cuski Sweet Dreameezz Black Muslin - Grey Stars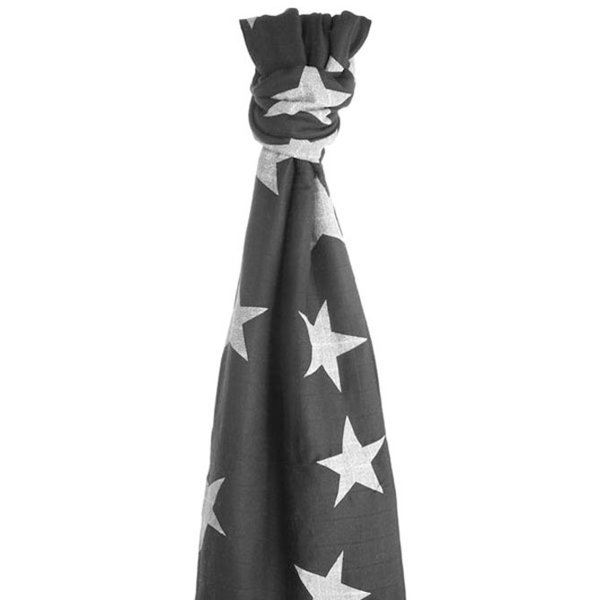 This is the ONLY black bamboo muslin in the world...
And it has a celebrity crush on it!! Sweet DreameezZ! Loved by mummies, but loved by cool daddies too!!

Cuski Baby Ltd is delighted to announce another stunning and innovative new product for mummy, daddy and baby. (Multi-use)
Cuski would like you to meet Sweet DreameezZ!! A large black square made from 100% luxury bamboo rayon muslin -dotted with little stars! - This is designed as a sleep shade for your most precious investment; your baby. Simply drape it over the pram, buggy or cot to allow your little one to sleep even on the brightest day, or in an environment where there are bright lights that would otherwise stop them sleeping soundly. This beautiful shade will help your baby sleep for longer, peacefully.
Drapes easily over all pram and buggy types

Made from natural breathable anti-bacterial ultra soft bamboo muslin

Easy access to your baby in emergencies

Portable so can be stuffed into any bag, or you could even wear it as a shawl or sarong!

Can be used as a modesty cover while nursing

Fully machine washable (at 30°c) we would recommend using a non-bio washing powder. Do not hand wash.

The perfect multi-tasking item for busy mummies & daddies – unique bright light shade, swaddle, sarong, nursing cover, light blanket – 5 products in one!

Size: 120cm x 120cm (Single Pack)
* Please note your Star Dreameezz may come in either of the star patterns shown in images depending on which is supplied from the manufacturer.