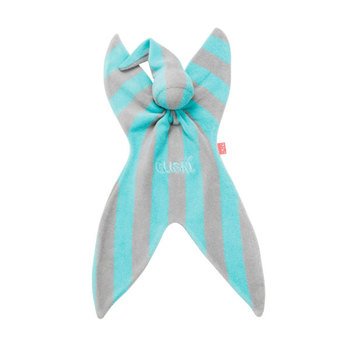 A gorgeous addition to the Cuski Baby Comforter family - Fabby Cuski is made from cotton terry in mint and grey stripes. Perfect for either boys or girls! Toddlers love them too! Fully machine washable to make life easier for Mum and Dad.

* Safety Awareness - All babies need monitoring in regards to items of clothing, muslin squares, toys, comforters, cuddlies & bed linen. You can tie knots in the legs and arms of Cuskis or attach to stroller or cot with babies who are active while sleeping. All Cuski products are fully tested and conform to relevant standards, and are approved for use in UK hospitals. * Please note, Cuski is a comforter, NOT a teether. If your child decides to chew or suck on the fabric, it will damage/wear. We cannot be held responsible for damage that has occurred to Cuski through chewing or sucking the fabric. Constant chewing and sucking to any fabric/ garment/ soft toy will go into holes/ damage/ fray and is not a part of normal wear and tear.

Composition: Terry Poly/Cotton Towelling with Foam head insert / Dimensions: approx. L48cm x W17cm (hat 11.5cm)
Your Cheeky Monkey advises parents to follow the SIDS Safe Sleep Guidelines, please see their website for more information.