Cloth Breastpads - Posh Pads Purple Pizazz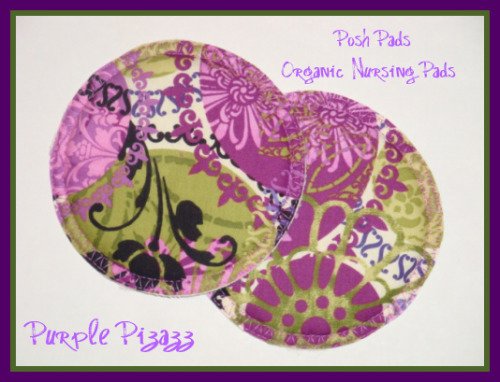 These beautiful pads are made of one bottom layer of soft organic flannel, layers of natural antibacterial bamboo and organic cotton fabric, and a top designer layer in a "Purple Pizazz" design.
Bamboo fabric is one of a few fibers that are naturally antibacterial. No sprays or chemicals are used, therefore reducing the chances of allergies or skin conditions. The thermal characteristics offer great breathing ability; keeping moisture away from the body. Bamboo is highly absorbent and naturally deodorizing.
POSH Pads are ECO-Friendly, as they are a wash and wear pad. No more rough, plain-jane white disposables. These shout comfort and style! Pads are between 4.5 and 5 inches in diameter. This provides great coverage for all sizes. The absorbancy is remarkable without being bulky or making you feel like your wearing a sponge.
Because we want your POSH Pads to last as long as you decide to breastfeed, we recommend that you wash them in cold water on gentle cycle and allow them to airdry. If you have a lingerie/hosery laundry bag available, this would be ideal. Most have found that if they wash their POSH Pads along with their babies clothes in a specialty "baby laundry detergent" it makes caring for your POSH Pads quick and easy. NEVER use fabric softeners with your POSH Pads, as this will take away their ability to wick moisture away from the body.
Per Pair.