Cloth Breastpads - Bamboo & Organic Cotton Velour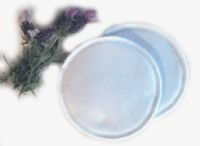 These Bamboo/Organic Cotton Velour Breastpads are the softest available, ideal for breasts that are extremely tender to the touch especially when suffering from Mastitis.
With Bamboo's highly absorbent, anti-bacterial, anti-fungal properties, and the softness of the 3 layers of Bamboo/Organic Cotton Velour, these breastpads make a practical cost-effective solution to your breast-feeding needs. These breastpads do not have a PUL layer.
Fabric will reach maximum absorbency after 5 washes. Approx. 11.5cm diameter. Sold as a single pack.