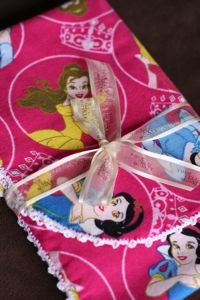 Beautifully soft 100% cotton flannelette Bunny Rug ~ A soft, gentle and loving way to wrap or cover your beautiful baby. You will also find this blanket works well as a breastfeeding cover.

These are a very special handmade item that you will love to use as a receiving blanket, or to swaddle, wrap or cover your baby.
Perfect for you to use while out and about or as a light blanket for the pram or car seat.

Gorgeous bright pink Princesses print, with our super cute bobbly white crochet edge. All hand-stiched.
These are similar to our Heirloom Baby Wraps, just with a crochet edging that is not as lacy.
Size is a minimum of 1m x 1m - large size allows for more secure swaddling of baby, and use from birth through to toddler/pre-school age as a light blanket.