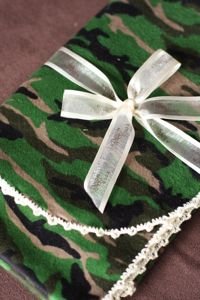 Beautiful soft 100% cotton flannel ~ A soft, gentle and loving way to wrap or cover your beautiful baby.
These are a very special handmade item that can be used as a receiving blanket, or to swaddle, wrap or cover your baby. Perfect for use while out and about or as a light blanket for the pram or car seat. Also a great idea & size to use for a breastfeeding cover in public.
Funky green camo print with a simple one round white crochet edge. All hand-crocheted.

Size is a minimum of 1m x 1m - large size allows for use from birth through to toddler/pre-school age.